CSE HTML Validator Pro - HTML Validation
"Secret Weapon" Tools for SEO Professionals!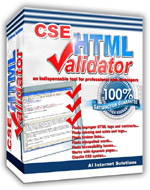 "Long ago, I thought I had a good grasp on how to write HTML. But, after I registered CSE HTML Validator in 1997, I was amazed to see how much I did NOT know about it. For over 5 years, (Now 10+) this great program has continued to improve and keeps teaching me more things I'll need to know. It has helped me to win hundreds of web design awards, including several considered the "World's Best". It's also helped me achieve many #1 search engine rankings for my clients. Without it, I'd probably be doing something else for a living! Thanks AI Internet Solutions for an awesome program that changed my life." - Bob Chapman
CSE HTML Validator Lite is a fast, easy to use, and free HTML development tool for Microsoft Windows that helps you create syntactically correct HTML and XHTML. You'll be surprised how many problems may exist in your HTML, even if it was made with a WYSIWYG editor or automatic HTML generator. CSE HTML Validator will help you quickly locate and fix HTML problems so that your documents are easily viewed by a variety of web browsers. You can even fix your documents inside of HTML Validator by using the integrated editor! CSE Lite is great for HTML students, beginners, and professionals who want to make sure that their web site visitors do not leave their site because they ran into problems caused by poorly written HTML. More powerful commercial editions are also available.
---

Home | Goals | Services | Experience | Rates | Our Sites | Awards | Press | Contact Us | Site Map
---


Copyright © 2001-2017 by
Award Winning Web Site Designs
.
All rights reserved
.
For info, call 843-552-2145 or e-mail
info@awardwinningwebsitedesigns.com
.
Award Winning Web Site Designs uses AwardWinningWeb.com as a shortcut.
Web promotion:
Carolina Web Marketing
Web hosting:
Carolina Web Hosting
No content may be copied, altered or redistributed without my written consent.